History
Origin Tibet
The Tibetan Terrier is a medium-size breed of dog that originated in Tibet. Despite its name, it is not a member of the terrier group. According to the legend, Tibetan Terriers were kept purebred for over 2000 years. Tibetan Terriers were kept as good luck charms, mascots, watchdogs, herding dogs, and companions. They were also used to retrieve articles that fell down mountain sides.
Also known as the "Holy Dogs of Tibet," Tibetan Terriers were never sold, only given as gifts by monks to promote good fortune. As such, the early history of the breed is linked to only a handful of foundation dogs.
Development outside of Tibet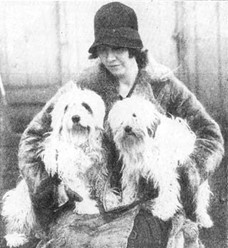 Dr. A.R.H. Greig of England brought the first Tibetan Terrier to Europe.  
In 1922 she was given a golden and white female puppy named "Bunti" following a successfull operation on a patient in Tibet. After acquiring a second male, "Rajah," Dr. Greig started a breeding programme to get the breed registered in the Indian Kennel Club. The first litter was born in 1924 and were registered as Lhasa Terriers. In 1926 Dr. Greig had a break from her work and brought her dogs to England to introduce them for the English Kennel Club. During the first years the puppies were registered under her mother's kennel name Ladlok but in 1928 Dr. Greig achieved the registration of the kennel name Lamleh. Kennel Lamleh became an incredible important supplier of ancestors to many of the tibetan terriers we enjoy today.
In 1930, the breed's name was changed to Tibetan Terrier - first in the Indian Kennel Club and a few months later also in the english Kennel Club. 
The first Tibetan Terriers in the US were imported in 1956 by Dr. Henry and Mrs. Alice Murphy of Great Falls, Virginia. 
In 1973, the American Kennel Club recognised the breed, classifying it as part of the non-sporting group.
Tibetan Terriers are related to and have contributed to the development of other breeds, including the Shih Tzu, Lhasa Apso, Tibetan Spaniel, Polish Lowland Sheepdog, among others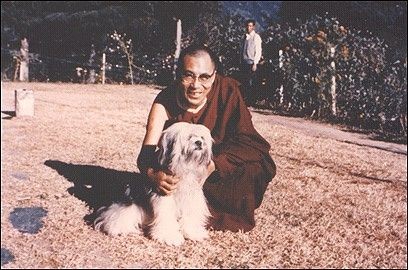 His Holiness the 14th Dalai Lama with his Tibetan Terrier 'Senge'